Discover more from Acceptable Views
A Canadian home for common-sense commentary.
Over 1,000 subscribers
Justin Trudeau had a cold: The Freedom Convoy one year later
On the anniversary of a protest unlike any other, the author wonders about the man who pushed Canadians too far, and reflects on time spent on highway overpasses and amongst the rabble in Ottawa.
Justin Trudeau had a cold.
Holding an ostensibly positive rapid test in one hand and his AstraZeneca, Moderna, and Pfizer punch-card in the other, the nation had waited for him to say something.
A year later, we know that he would have been better off saying nothing.
Staring out through a Zoom screen, scenes of revelry, resistance, and humanity filling up his timeline — the kinds of scenes that left his Minister of Public Safety yearning for the sweet release of a made-in-Canada Tiananmen Square — the PM had never seemed more distant.
His handlers would have known that it was a bad idea to force conversation on Trudeau when he was in a mood of sullen indignation, a mood that had hardly been uncommon in the weeks preceding.
Justin Trudeau had been 'working on' a group of people he did not like, and couldn't wait to 'finish.' For once, he was tired of all the publicity and social virality generated by the previous summer's infamous 'Fuhrer rant' and at least on some level, one has to imagine he knew that he had lost the plot in log-rolling for pharma and biosecurity interests over the needs, wants, and freedoms of the Canadian electorate.
But Justin Trudeau was ill; the victim of an ailment so common by the winter of 2022 most would consider it trivial. And when it got to Trudeau, it plunged him into a state of anguish, insufferability, deep anxiety, panic, and even rage.
Justin Trudeau had a cold.
And a suddenly sick Justin Trudeau had the power to shake a national economy, and to will even the most genteel of Canadians to drive halfway across the country to park at his doorstep.
The good Liberals had tried to warn him in advance. The less ethical that make up the majority of his inner circle, who by design seek to protect his simple-minded tendencies, and his talent for wedging the haves against the have-nots, had been more interested in coddling this undeniable mistake, and emboldening the worst of his statements to come. If they remained loyal, there is nothing that Trudeau would not do in return — single-sourced contracts for friends, deferred prosecution agreements, a file they're not remotely qualified for…
They'd be wise to remember one thing, however. He is Justin Trudeau. The boss. The only man in the 21st century to survive blackface, thanks to the right relationships with media (read, paying them as if he too were their boss), and a Liberal culture that no longer cares for accountability nor good governance.
Absolute power may corrupt, but so what? Why should the good times come to an end?
Justin Trudeau does things personally; he's all 'soft skills,' after all. He kisses babies with the best of them, knows where to take a knee when the camera is watching, and has no trouble reciting now-tired bromides, complete with those Shatner-esque pauses, that serve as a balm to an increasingly-detached and neurotic professional class.
The same Justin Trudeau who does this can, within the very same state-manipulated news cycle, exhibit intense symptoms of intolerance for his imagined enemies of progress: the dreaded anti-social yob.
Most of these men (and women) are bigger, stronger, and harder working than Trudeau. But this had never seemed to intimidate Trudeau, nor had it curbed his impetuous behaviour towards them when down in the polls, or facing any actual opposition.
They will never take a swing back at me, he thought.
Then they did.
---
I have long wanted to riff on what I believe to be the greatest magazine editorial ever written, Gay Talese's Frank Sinatra Has a Cold, and with this week being the one-year anniversary of the Freedom Convoy, there felt like no better moment than the present.
As upset by the media framing as any, I sought out these protests and protestors who chose to line the highways, and who had been so harmed by two years of guilt and gaslighting that they felt the need to stand in traffic or make pilgrimage across a less-than-balmy landscape to ensure that they were finally being seen and heard; even if that meant suffering all the requisite slings and arrows.
Even if one takes issue with the use of colourful language — again, with apologies to Erin O'Toole — should we not be examining the conditions under which Canadians of all people would be driven to be profane?
We can handle families separated by time, space, and border closures, friends and loved ones harmed by mandates, millions forced under by often-nonsensical government edicts on their lives and livelihoods, but we draw the line at F*ck Trudeau?
I know the yobs, because I am a yob. I had more in common with the Canadians who lined the highways, like those pictured below, than I do the Zoom-class professionals who never batted an eye at the worst of social contagion, for to do so would have been to admit culpability, and that their shared casual cruelty towards the Great Unwashed had been so misplaced.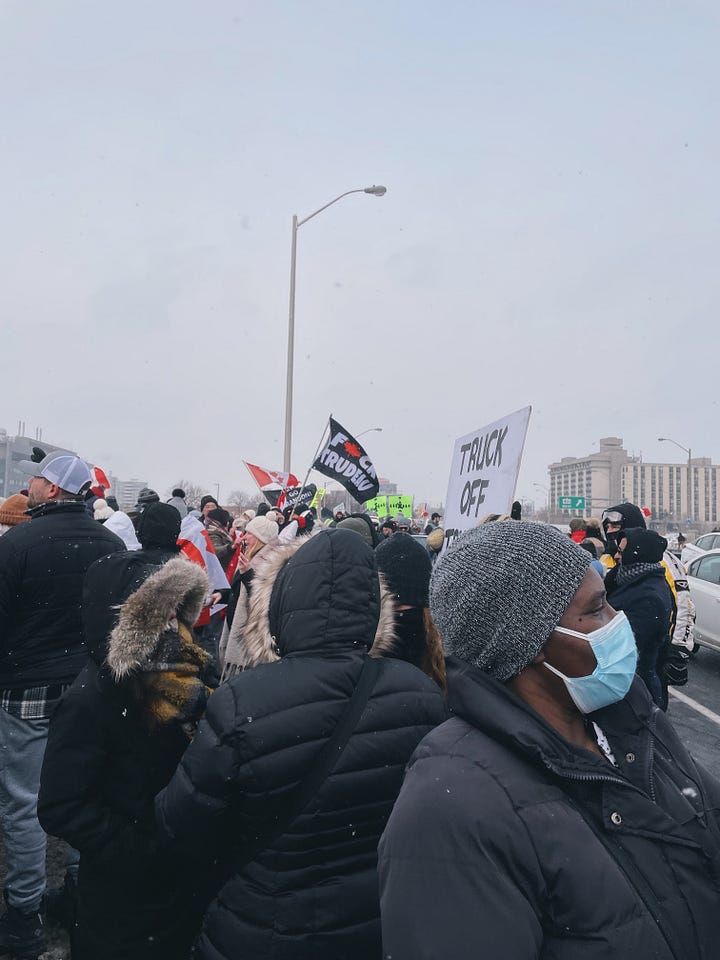 And upon arrival in Ottawa a week later, I felt that same love.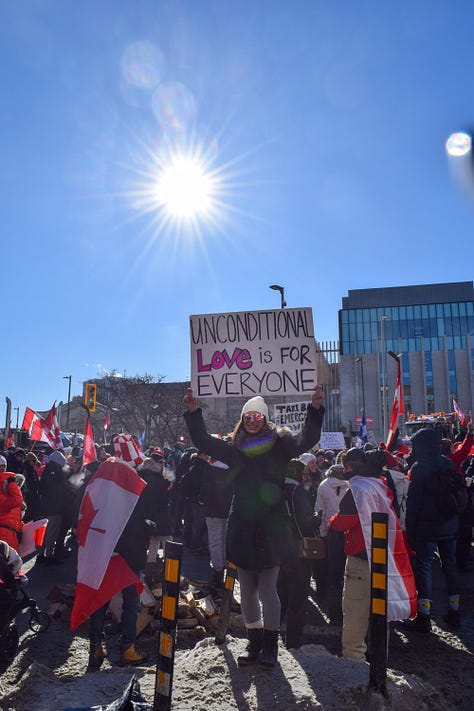 Sure, there were other emotions, a slight unease, a frustration with the small percentage of fringe elements; but, overwhelmingly, these were good people, staging what felt more like a music festival in -40 with the wind chill.
I'd been told to hate and resent them, but I didn't — and if you're reading this, it's more than likely that neither did you.
To see some of last year's patterns repeating, with Trudeau now lashing out at admittedly more of a fringe-esque mob — calling the mere protest of his presence "interference in democracy" — is to acknowledge that whichever 'side' of an issue will always tell stories to provide comfort to their biases, and to help them sleep at night. I'm as guilty of that as any — heck, I founded this newsletter to work through some of those emotions.
But I also know that the Convoy wasn't perfect. No protest movement is.
Can the same be said for the defend the Glebe types who continue to want to treat Wellington Street like some DMZ, and who believe that Emergencies Act abuses matter not when their particular sensibilities are on the line?
I still wonder about those people. I wonder if we can ever bring them back, or if history will always require its 'tankies,' just as those in power always need a Red Menace for the public to focus on — be they Russia, China, trucks adorned in Canadian flags, or your suddenly crimson weather report.
I still wonder about those people, and then I think back to Justin Trudeau and his cold.
---
The rest of the year had not been bright and balmy. Scenes of crackdown had not gone over magnificently, the Emergencies Act was finished, the public appetite for mandates had been taken away, and now Trudeau was in his motorcade destined for Hamilton, to begin work at his caucus retreat.
There were carbon taxes to increase, oil and gas workers to 'transition' out of employment, online censorship bills to ram through. Perhaps, if he were lucky, even a chance at one last majority…
Life is a beautiful thing
As long as I hold the string
I'd be a silly so-and-so
If I should ever let go...
Justin Trudeau's motorcade stops in the half-derelict streets of downtown Hamilton. The light has turned red. No pedestrians pass quickly by his windshield. Instead, they choose to stop and stare. Then comes the shouting. Up ahead, more are ready to greet him.
Just before the light turns green, Trudeau rolls down his window and smiles, waiting for the reaction he knows will come.
"Traitor! F*ck you!"
And then he is gone.
Alexander Brown is a writer, editor, and politico living in Toronto, Canada. His extensive coverage of the Freedom Convoy has appeared in publications such as the Brownstone Institute, Toronto Today, and here on Substack.
Acceptable Views is a wholly independent publication read by thousands per week. If you enjoyed this column, click to become a free or paid subscriber.